Supporting Vulnerable Communities of All Races
We provide information on how to even the playing field against fossil fuel companies by focusing on the following issues:
Clean air, water and soil for all

Government transparency and citizen input to proposed local development

Corporate and industrial toxics emissions

Elimination of nuclear weapons (program since 1997) "#Target 2045"

Community pollution

Healthy local food and access

Pandemic adjustments

Environmental racism and racial equity

Heired Properties

Landfill and toxic dumping

Utility cost equity
Safe and Clean Energy

Replacing nuclear, coal and gas fuel sources

No false solutions such as biomass, bridge fuels

Apply EJ principals to clean, renewable energy sources

Energy and transportation efficiency

Land Use & Abuse

Urban Sprawl

Biodiversity

Loss of wildlife

Deforestation

Consumption patterns
View the latest news, updates and resources by issue:
All Issues
Citizen Input for Local Development
Clean Air, Water and Soil
Climate Change
Community Pollution
Eliminating Nuclear Weapons
Environmental Justice
Land Use & Abuse
Racism and Racial Equity
Safe and Clean Energy
Natural Gas Pipeline – Property Value Devaluation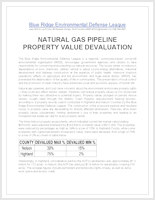 Property values plunged on parcels whose owners sought relief through the Atlantic Coast Pipeline reassessment hearing process, according to a property records search conducted in Highland and Nelson Counties by the Blue Ridge Environmental Defense League.
The construction of the proposed pipeline and resultant losses in property value are devastating for directly affected landowners. Pipelines drive down property values substantially, limiting landowner's use of their properties and leading to an increased real estate tax rate for every property owner.